LED projector: project Christmas outside with gobo
Looking for a custom LED projector for Christmas outside to project? Or would you rather highlight another holiday, birthday or event? With an LED gobo projector you can go in any direction. Do you want to order a custom gobo that you can fully adapt to your wishes? Contact us for all options and/or quotation.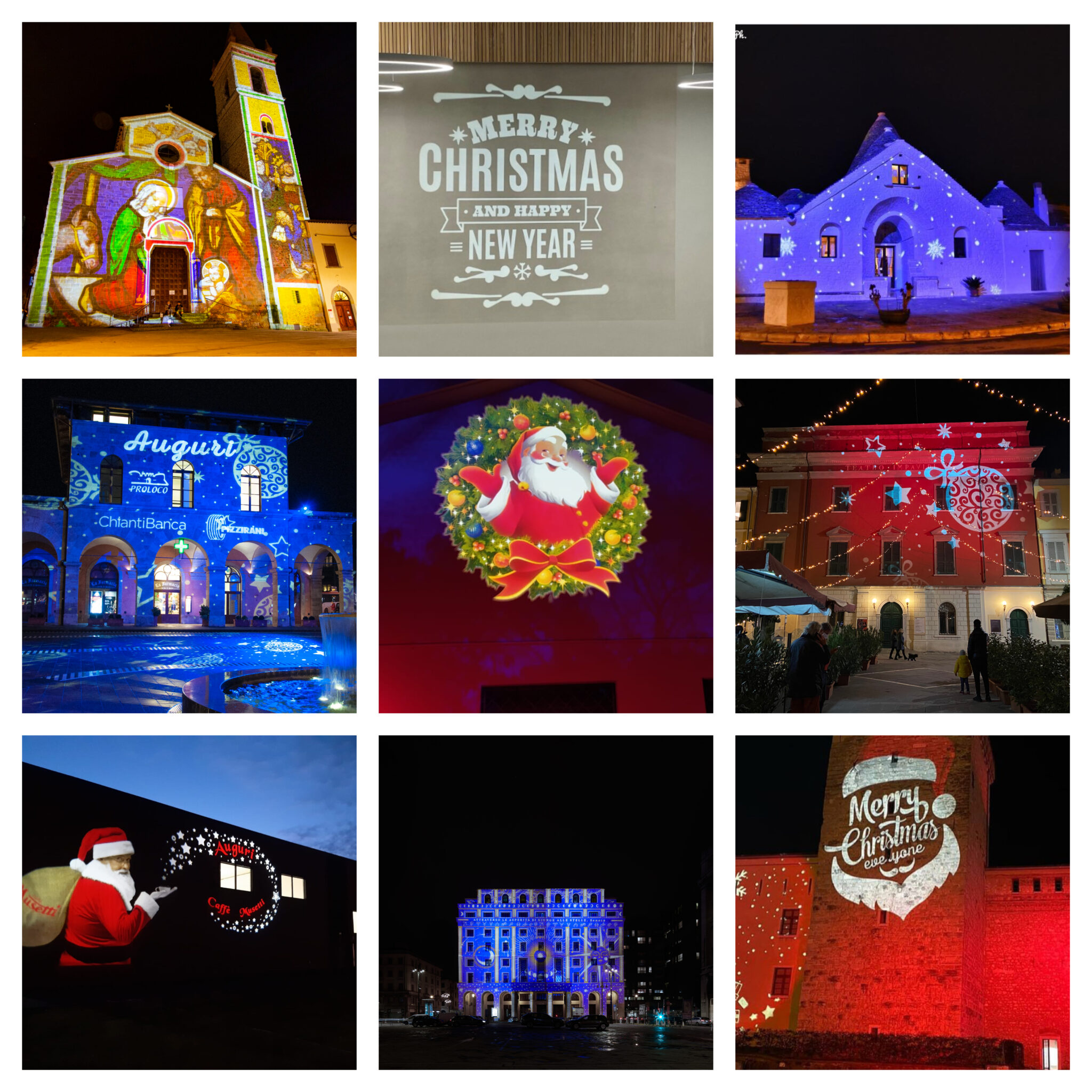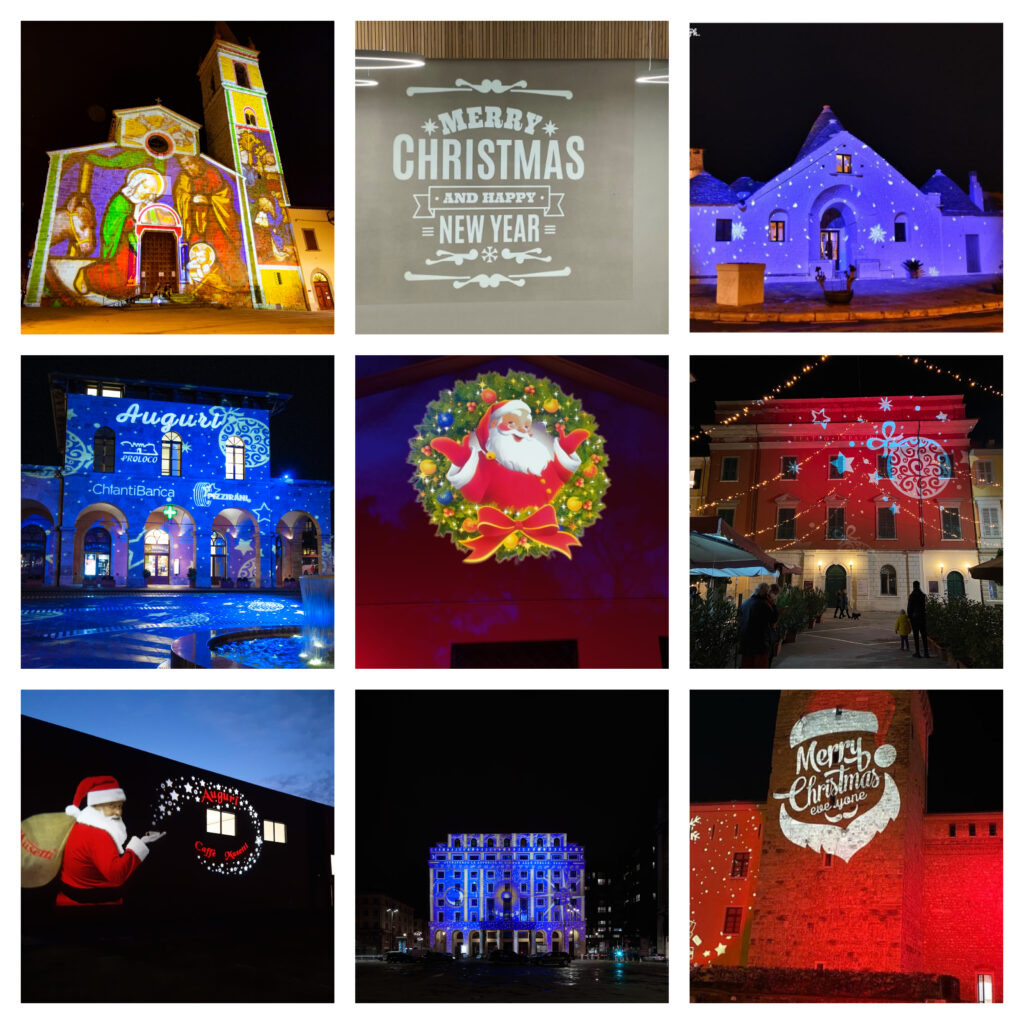 ---
An LED gobo projector is perfect for your festive message to put it in the spotlight – even when it is dark. Whether you want to project Santa Claus, snow, hearts on Valentine's Day or an Easter Bunny on Easter, everything is possible with gobo projection. Distribution offers both indoor and outdoor gobo projectors.
A gobo is a glass plate (similar to the slide in a slide projector) that is fully customizable to your wishes. For example, place your company name under a Santa Claus, or your company logo next to a series of hearts. Or go for a warm message: '[Your company] wishes you happy holidays!'
LED gobo projectors are often used by companies and municipalities for outdoor light projection, illuminated advertising on the facade, signage, warnings and smaller light projections at the entrance on the floor.
Are the holidays over again? Then you can easily replace the gobo with another visual. Think of your company logo, your slogan, a catchy visual or a welcome message.
View our extensive catalog with designs, including 192 Christmas designs.
---
Static or moving image with gobo projection
Want to project a static image? Then choose a simple gobo projector, such as the Nice or Signum.
To project a dynamic visual you can use an animation module and rotating gobo wheels. For example, you can let snow or hearts fall down at Christmas or Valentine's Day. Or Easter eggs at Easter. The possibilities are endless.
Choose your LED projector
Whether you want to project Christmas outside or want to illuminate another holiday, you will find your perfect LED gobo projector at Distrixs. For temporary or permanent use. For indoors or outdoors. We have it all. Contact us for a quote.
We are happy to help you turn your idea into reality. We can also give you a demo at your location or at our office, where you can enjoy a cup of coffee. Contact us and we will be happy to help you further.
0031 (0) 10-2230187 | info@distrixs.nl | Send a Whatsapp
Frequently asked questions about LED gobo projectors for parties
1. What is an LED gobo projector?
A gobo projector can be compared to a slide projector or projector. But instead of slides or digital data, we use a glass plate: the gobo. The gobo is fully adjustable. So you can use a gobo projector for festive light projections during Christmas, Halloween, Valentine's Day, events or birthdays.
2. How can you project Christmas outside with an LED projector?
Choose the right projector: Go for an outdoor gobo projector, such as the Gobo Signum, Gobo Divum or the GoLux Plus. These are completely waterproof and excellent for outdoor projects.
Use special gobos for Christmas: Choose an image that matches the Christmas theme. Think of Christmas trees, reindeer, packages, snow or a Santa Claus.
Ensure a firm mounting: Place the projector on a stable surface or mount it firmly on the wall so that it cannot fall over in the wind. If necessary, the experts at Distrixs can help with this.
Correct direction and distance: Position the projector so that the projection falls on the desired surface, such as a wall, a facade or the floor.
Power supply: Make sure you have the correct power supply and preferably use a waterproof extension cable for outdoor use.
Test and adjust: Test the projection before it gets dark and check that the images are clear and well positioned. Adjust the projection angle, distance and focus for best results.
3. Can I use an LED gobo projector both indoors and outdoors?
If you plan to use the LED projector outside for Christmas, Easter or any other holiday, choose one special outdoor LED gobo projector.
Some gobo projectors have a weatherproof housing that protects against moisture, rain and other weather conditions. You can use it both indoors and outdoors.
4. Are LED gobo projectors easy to install and operate?
LED gobo projectors are easy to install and operate, although it varies by model and brand. Are you stuck? Then we are happy to help you with the installation.
Installation
Plug-and-Play: Many LED gobo projectors can be easily connected to a power outlet. This way you can get started right away.
Sturdy stand: Most projectors come with a stand that keeps the projector stable. You usually don't have to do any complicated assembly.
Adjustable angle: A gobo projector has an adjustable angle, so you can easily aim it at the desired projection surface.
Controllers
Simple control buttons: Gobo projectors have intuitive controls, such as power switches and brightness and focus settings.
Remote control: Some models come with a remote control that allows you to control the projector from a distance, which is useful for outdoor light projections.
Automatic functions: Many projectors have automatic functions, such as timers, image rotation, and on/off times. This means you don't have to be constantly at the projector.
Low maintenance: LED gobo projectors often require less maintenance than traditional projectors. You usually don't need to replace bulbs.
5. What kinds of images can I project with a gobo projector?
Since you have one with us custom gobos can be ordered, the possibilities are endless. You can project images, patterns and texts depending on your creativity. Here are some examples.
Natural Elements
Snowflakes for Christmas and winter themes.
Flowers, plants and leaves for spring and summer.
Mountains, waves, water or animals for special events.
Festive themes
Christmas trees, Santa Clauses and reindeer for Christmas decorations.
Ghosts, pumpkins and witches for Halloween.
Hearts, kisses, bears and hugs for Valentine's Day.
Geometric patterns and architecture
Abstract shapes and patterns for a contemporary look.
Iconic buildings, bridges and city silhouettes for an urban atmosphere.
Company logos
You can project your logo as part of branding and promotion.
You can also project a personalized message on a facade, building or wall, such as 'Congratulations!' or 'Happy holidays!'. Possibly with your company name.
Stars and planets
Think of stars, planets or the moon for a mystical atmosphere.
Festive occasions
Confetti, balloons and fireworks for birthday parties and anniversaries.
Underwater world
Mermaids, fish and coral reefs.